COVID-19
Until further notice, San Elijo JPA facilities are open to vendors and visitors by appointment only (760-753-6203).
In response to updated guidance on COVID-19 prevention measures, San Elijo Joint Powers Authority (SEJPA) adopted revised precautionary measures to prevent the spread of the virus. Until further notice, SEJPA facilities are open to vendors and visitors by appointment only (760-753-6203). Please note that all persons should avoid entering the facility if they have any COVID-19 symptoms, including a fever and cough. Recommended COVID-19 response measures are available from the State, County, CalOSHA, and CDC, and all persons entering the site are required to comply with these requirements.
Thank you for your understanding and your efforts to protect our community.
Serving the cities of Encinitas, Solana Beach, and Del Mar
Our Mission
To serve our communities by providing safe and reliable recycled water and wastewater services in order to protect the environment and public health.
Vision Statement
We pursue innovative practices to produce clean water in an environmentally, socially, and fiscally responsible manner.
Project News & Announcements
We apply the latest technologies to recycle and treat stormwater and wastewater. Learn more about San Elijo JPA's modernization program, our commitment to the environment, and the facilities we operate to serve the public.
Bike and pedestrian path, parking and vehicle charging at Water Campus
Date: July 5, 2022
The San Elijo Water Campus on Manchester Avenue in Cardiff-by-the-Sea provides public parking, electric vehicle charging, and a 12-foot-wide, paved path for pedestrians and bikes to improve mobility in north coastal San Diego County.
These improvements complement the $120 million North Coast Corridor program, a Caltrans and SANDAG initiative that includes bikeways, widening of Interstate 5 and a restoration of San Elijo Lagoon, among other improvements.
Bike and pedestrian paths connect Solana Beach and Encinitas and improve access to the San Elijo Lagoon and Nature Reserve. One of the paths runs from Solana Hills Drive in Solana Beach to Birmingham Drive in Encinitas and crosses San Elijo Lagoon by way of a suspension bridge beneath the freeway. Other paths connect to a network of new and existing trails within the lagoon reserve.
One route, on Manchester Avenue, runs between Interstate 5 and the Water Campus, where 31 parking places, six electric vehicle charging stations, drinking fountains, and a small park are open to the public. At the Water Campus, the Manchester Avenue bicycle path continues northward to Birmingham Drive, leading toward the Encinitas Community Park.
Public amenities at the Water Campus were built during a $20.6 million campus improvement program in 2021.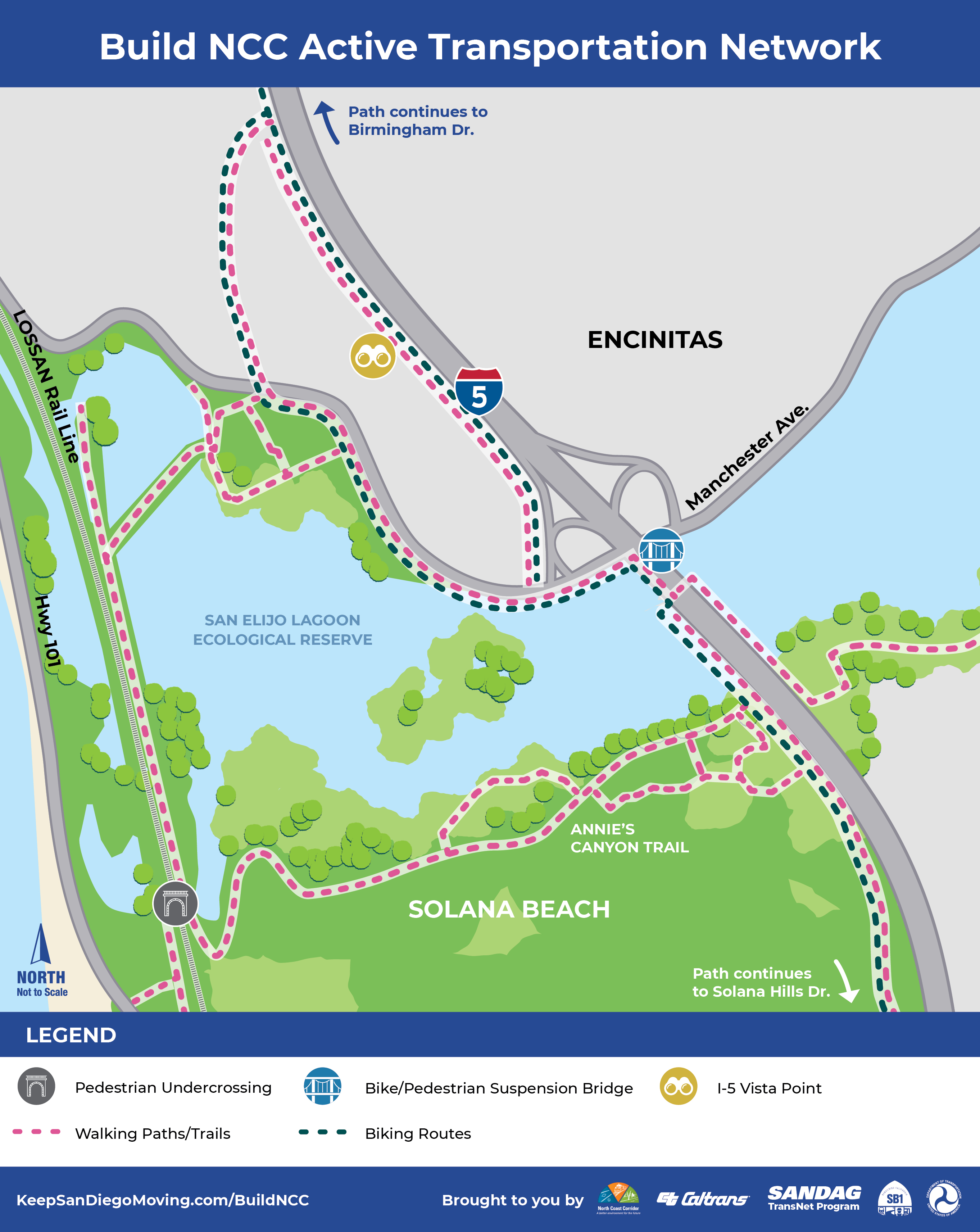 EV Charging Opens at Water Campus
Date: March 14, 2022
Visitors to San Elijo Lagoon can charge their electric vehicles while hiking at the nature reserve. Six new charging stations have opened to the public at the San Elijo Joint Powers Authority Water Campus on Manchester Avenue. Electric vehicle charging went live this month and is one of many new upgrades at the Water Campus.
ChargePoint, Inc., a third-party vendor, maintains the vehicle charging system and handles users' billing and network connections. At the charging stations, fees are designed to recover the costs of electricity and running the system. A parking fee begins after the third hour of charging.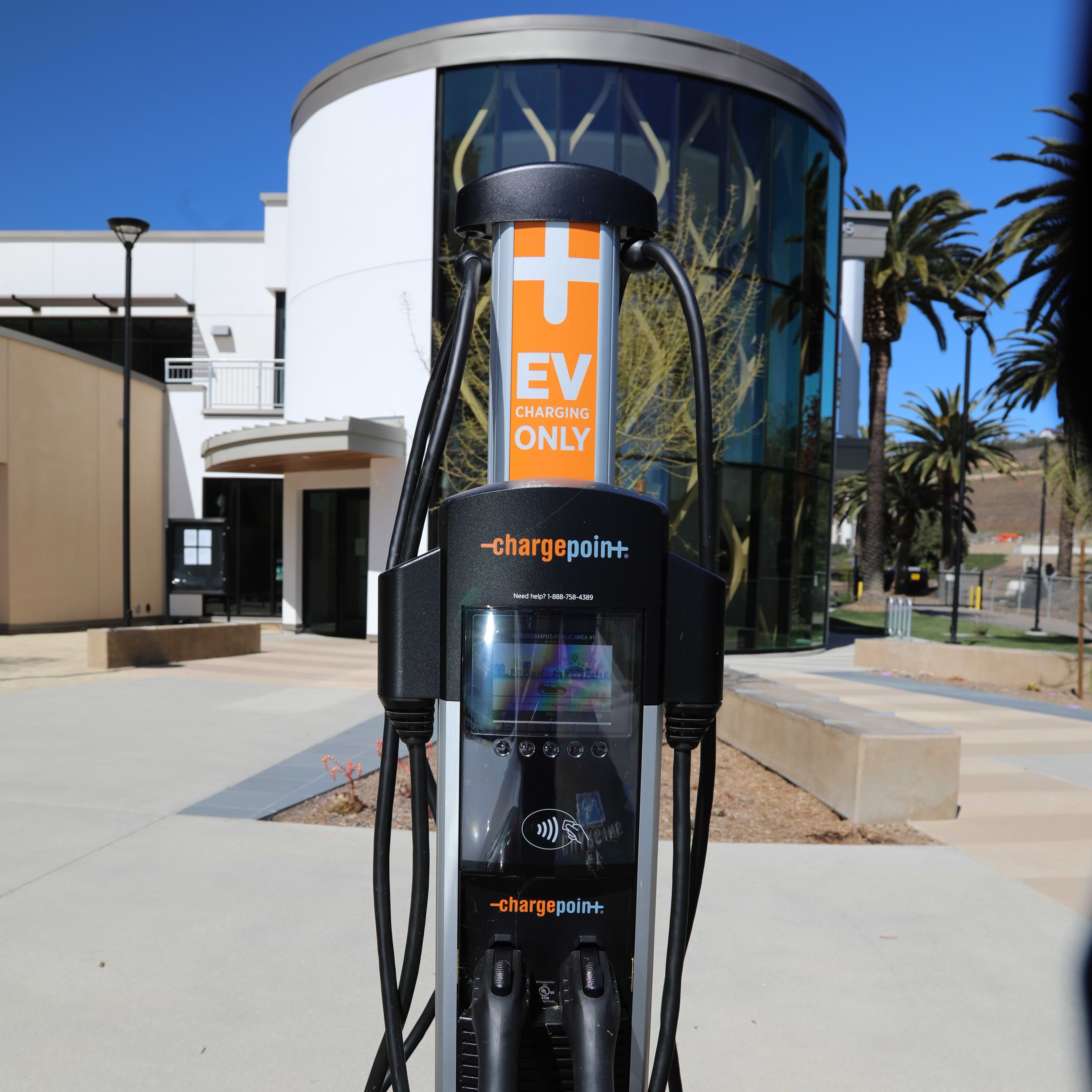 Ribbon-Cutting for Water Campus Improvements
Date: October 19, 2021
On Tuesday October 19, 2021 SEJPA's Board of Directors, along with General Manager Michael Thornton, cut the ribbon on $20.6 million in community-focused upgrades to the Water Campus on Manchester Avenue, known formally as the Water Campus Improvement Project. Elected leaders from Encinitas, Solana Beach, Del Mar and the State of California joined about three-dozen community members to celebrate completion of the two-year construction program. One of its crowning features is a modern, two-story administrative building and learning center.
"It's an important project that modernizes aging facilities and adds renewable energy while improving public access and increasing walking and biking paths in our coastal cities," said Chairwoman Kristi Becker.
The campus improvements provide numerous public amenities, including parking for the nearby San Elijo Lagoon Nature Center; pedestrian safety improvements on Manchester Avenue; electric vehicle charging; a small park on Manchester Avenue, and a multi-use bike and pedestrian path built in partnership with Caltrans. The multi-use path connects Manchester Avenue to Birmingham Drive and is set to open in the May 2022.
The project includes a new operation and administration building, facilities for stormwater capture, the permanent preservation of sensitive open space, and the installation of a $2 million solar system to meet up to 25% of the facility's electrical demand.
The original wastewater facilities on Manchester Avenue opened in the mid-1960s. Over the years, the award-winning facility has evolved into a water campus that treats and recycles wastewater, hosts water research in collaboration with local universities, and provides educational opportunities to schools and colleges. The ribbon cutting event highlighted the partnerships with Caltrans, which contributed $5.4 million for the multi-use path and improvements on Manchester Avenue, and the California Department of Water Resources, which funded $300,000 for stormwater capture and reuse. In addition, great support also came from the cities of Encinitas and Solana Beach, the County of San Diego and the Nature Collective.
"We always appreciate the outstanding collaboration we get from our neighbors and partners," said SEJPA General Manager Michael Thornton.