Water Campus Improvements Project
Water connects our community.
The proposed Water Campus Improvement Project will modernize our Water Reclamation Facility. The new facility will address administrative building needs, enhanced physical and cyber security, and increased functionality and energy efficiency. True to our mission and values, and especially important, the new facility will promote a community connection to our wastewater treatment and recycled water treatment innovation. The new facility provides added public accessibility, an open trail system, and provides water education features for the community.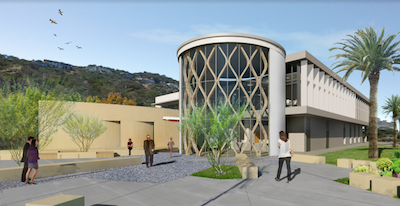 Highlights
Education Features
The project will feature interactive learning opportunities for students and the public to share. Contact us about our water treatment plant tours and current education opportunities.
Sustainability Upgrades
The project will strongly embrace sustainable practices including a shift to locally produced photovoltaic solar power for onsite energy, all landscaping using recycled water, planting of shade trees and stormwater pollution protection, and electrical vehicle charging stations.
Bike/Pedestrian Path
The bike/pedestrian path is being pursued as a collaborative effort between the SEJPA, Caltrans, and the City of Encinitas. The path is planned on the west side of the SEJPA property, from north to south, which will connect Birmingham Drive and Manchester Avenue as part of the North Coast Corridor Program. Learn more about the regional bike/pedestrian improvements
here
.
Public Parking
Public parking is estimated to be 31 parking stalls and is intended for SEJPA visitors, the multi-use path, and to provide overflow parking for the San Elijo Nature Center located across Manchester Avenue.




Project Benefits
Education. Environment. Community. Safety.
Together, we are making a difference.